About Us
---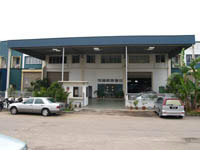 Sungreen Mould Industries Sdn Bhd
was established in 1991.The company specializes in the fabrication of metal die-casting moulds. The industry caters for automotive parts, computer peripherals, power tools and medical appliances.
In addition to its production activities, the company also provides mould design according to our customer's specifications and specialized services in CAD/CAM through the utilization of CNC and EDM.
From humble beginning, the company are producing reliable and quality product for this industry. Its outstanding mould making team is now capable of manufacturing superior quality mould products. Eventually, the company has become successful in upgrading its mould quality and shortening delivery time. Its strategy for enhancing future growth shall be the implementation of the latest technology through the computerized operation of its facilities. With proper management and software integration, the company believes, its customers shall have the abilities to strengthen their competitiveness in the market arena.
Sungreen Mould Industries Sdn Bhd
for seen a very bright future for the metal die-casting mould industry. The implementation of the following programmes shall be a stepping stone for the company's well being and prosperity:-